but I'm wondering if any of you fine readers can tell me: were you born with a nose that got smaller as you got older?
I thought this was a physical impossibility but I could be wrong.
I'm referring to both Angelina Jolie and Natalie Portman*, who both had sort of "plump" noses as teenagers and now have very refined schnozes. The changes are SO subtle it's hard to tell and of course they're both on plastic surgery blogs where the authors affirm indeed they had nose jobs but the comments go back and forth with the main argument being one's nose changes as you transition from teen to adult.
*Scarlet Johansson fits in here, too, but I care much less about her for some reason.
AND YES I LOOK AT PLASTIC SURGERY BLOGS WHAT ABOUT IT
So the question is-anyone have firsthand experience with this? I am infinitely curious. Mostly because I love throwing shade on bitches.
Like…EVA MENDES!
Hey bitch!
And HALLE BERRY!
Grandma? Is that you?
And BLAKE LIVELY!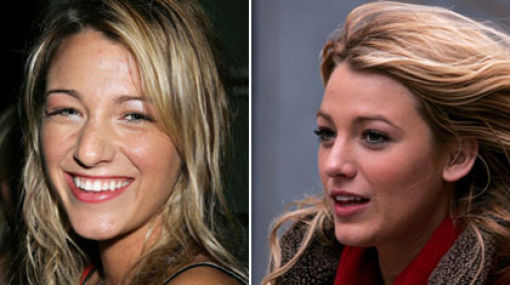 *snorts*
I find it really interesting almost every single one of the "most beautiful women in Hollywood" have had their noses done. Noses are holding us back as a species! One cannot be beautiful without a tiny nose! I have one of the weirdest noses ever made but at the very least, the Lord Jesus made it. *eyes shine* 
Jesus? Is that your real nose?
I'm much more obsessed with getting lip injections than changing my schnoz. Probably because my big ass nose fits my abnormally square head.
Hi, Dad!
Square heads love cocaine. DO YOU HEAR THAT, ESTABLISHMENT? I WAS BORN WITH A PROBLEM!
But the question still remains: CAN ONE'S NOSE GET SMALLER AS YOU MOVE FROM TEEN TO ADULT?